As there is a stockpile of amazing shows on HBO, watch the best HBO originals today from our list below. Can't access HBO in your country? Then use a VPN on your streaming devices and unlock HBO from anywhere in the world.
Note: Are you excited to watch HBO Max movies and shows? Now you can unlock everything on HBO Max from anywhere in the world using PureVPN. 
Best HBO Originals You Must Binge-Watch (A Few Spoilers Ahead!)
1. Show Me a Hero
An amazing 80s show where a highly-ambitious person named Nick Wasicsko worked tirelessly hard to become the youngest mayor. Created by the producers of the greatest crime-show ever "The Wire", Show Me a Hero can take your breath away by perfectly blending politics, corruption, a romantic flair, and lots of drama. The story is about a mayor struggling to help people by making some tough and heart-breaking decisions to do what's best for the city's future. We don't want to spoil all the fun for you so, you must dive headfirst into the first episode of Show Me a Hero to understand how a single man hustles to stay laser-focused on a single idea: Boosting the City's Future.
Seasons: 1
IMDb Ratings: 8.1
Genre: Drama
2. True Detective
As one of the highest critically-acclaimed TV shows, True Detective is a staggeringly-eerie TV show about two cops with twisted personal lives who are trying to solve confusing murder mysteries. The show is breathtaking and freshly organic when it comes to the crime-solving genre. Rustin Cohle (Mathew McConaughey) is an anti-social detective who is a bit cocky and hates following orders, partnered with Martin Hart (Woody Harrelson), who is married and had an affair with a co-worker. This is a story about the first season only! It will definitely blow you away because of the storytelling style and unpredictable plots.
Seasons: 3
IMDb Ratings: 9
Genre: Crime, Drama
3. The Leftovers
Based on Tom Perrott a's novel, The Leftovers is a stunningly-gorgeous depiction of how a few percentages of the global population were left behind and survived after the Sudden Departure (vanishing of billions of people in a flash). Watch how just a few groups of people (leftovers) of New York grapple with fear, loneliness, depression, and battle mental trauma of how to live without 98% of the population. From worshipping lions to a group of cults lurking around, and sex cruises, The Leftovers will keep you on the edge of your couches (unless you are lying on your bed). Without sharing any more spoilers or plots, it is a must-watch for fantasy-drama fans.
Seasons: 3
IMDb Ratings: 8.3
Genre: Drama
4. The Jinx: The Life and Deaths of Robert Durst
When it comes to TV shows based on true events, there are not many depictions that stay connected to the primary events that occurred in history. If you want to get a glimpse of the main storyline of why The Jinx: The Life and Deaths of Robert Durst is a fan-favorite and engaging TV show, here are a few things to know about. Imagine this! A real estate investor and tycoon who has brutally murdered his neighbor and transform his identity into a woman who couldn't speak or listen to anyone. We know that's a pretty strange way to run away from cops but discover how Robert, with an alibi Dorothy, continues to dodge the cops after the murder.
Seasons: 1
IMDb Ratings: 8.7
Genre: Documentary
5. Veep
Have you seen House of Cards? Then Veep is a not-so-similar and satirical version of it that is filled with dark comedy and power-toppling strategies. The protagonist, Selina, has to convince everyone why she is the best candidate to get elected for the next presidential elections even though she has no clue what she is sometimes doing. The Veep is an engaging show that is full of dark comedy, some seriousness, comical scenes, and somewhat-embarrassing reasons to become the next US president. A lightweight political comedy-drama packed with genius acting!
Seasons: 7
IMDb Ratings: 8.3
Genre: Comedy
6. Girls
The best part about Girls is that it revolves around the hyper-engaging lives of four girls who are seeking better employment options as well as finding suitable partners. So you can expect lots of sleazy moments and ruthlessly captivating scenes throughout every episode. After watching Girls for the first time, the critics started comparing it to another Sex and the City flip and a failed attempt where female protagonists can rule the acting game. However, Girls had a long-lasting impression on millions of fans (mostly girls) that broke several stereotypes and is cunningly bold.
Seasons: 6
IMDb Ratings: 7.3
Genre: Comedy Drama
7. Westworld
When it comes to fantasy drama, Westworld circles the story of elites who started fulfilling their fantasies in a theme park by buying a high-end ticket. Westworld is a theme park and an eco-system where the people have to engage with robots rather than humans to enjoy a real-life world. However, humans entering the theme park started facing extra trouble after the malfunction of several robots. Imagine living in an unpredictable eco-system full of robots that might kill you or make love with you.
Seasons: 3
IMDb Ratings: 8.7
Genre: Science Fiction
8. Silicon Valley
Silicon Valley is a center-spot for innovative technology, leading startups, and next-generation gadgets. Without aimlessly building up the story, Silicon Valley jumpstarted on showing the inner world of the coding specialists, tech-savvy CEOs, gadget-focused innovators, and entertaining the audience with hysterical humor. Even if you are not a fan of high-tech computers or jaw-dropping innovations, Silicon Valley can be a treat to watch when there is no other option left after endless scrolling on Google.
Seasons: 6
IMDb Ratings: 8.5
Genre: Comedy
9. Insecure
There is something different about Insecure, which is about a black woman working at a non-profit organization. From breaking up with her live-in boyfriend to getting laughed at in high-school, helping her friend start a meaningful relationship, and battling mid-life crisis, Insecure is about a passive-aggressive black girl who faces many problems. She often raps her heart out in front of the mirror or during open mic nights, Insecure is uncannily sexy for drama-comedy fans. By using subtle humor and a range of plots, the writers have managed to engage the audience. Even though Issa Rae faced trouble at work, with friends, and relationships, she managed to figure out a better way to stay happy amid her daily worries.
Seasons: 3
IMDb Ratings: 7.8
Genre: Comedy Drama
10. Vice Principals
This one-liner explanation of Vice Principals can be a bit disturbing at first, but it's not what it sounds like. The show is about two nasty white men who make fun of a black woman. Cruel, isn't it? However, don't stop watching after the first episode because the story is more about just highlighting the white power. Watch the "Vice Principals" to see how two mean-cunning dudes make the life of a black woman (Belinda Brown) a living hell. Vice Principals can quickly oscillate between funny or authentic and nasty or mean.
Seasons: 2
IMDb Ratings: 8
Genre: Comedy
11. Boardwalk Empire
It might not be in the league of the Sopranos or the greatest Breaking Bad, but it is miles ahead of your average crime-thriller TV shows. Boardwalk Empire is based on a historically-powerful figure Enoch L. Jhonson, which is played outrageously well by Marc Pickering, who quickly gained power in Atlantic City. Fans were hooked to Boardwalk Empire to watch how the main characters managed downward spiral, planned a rescue mission from an insane asylum, deal with countless killings, and leveraging political influence to transform decisions.
Seasons: 5
IMDb Ratings: 8.5
Genre: Fiction, Crime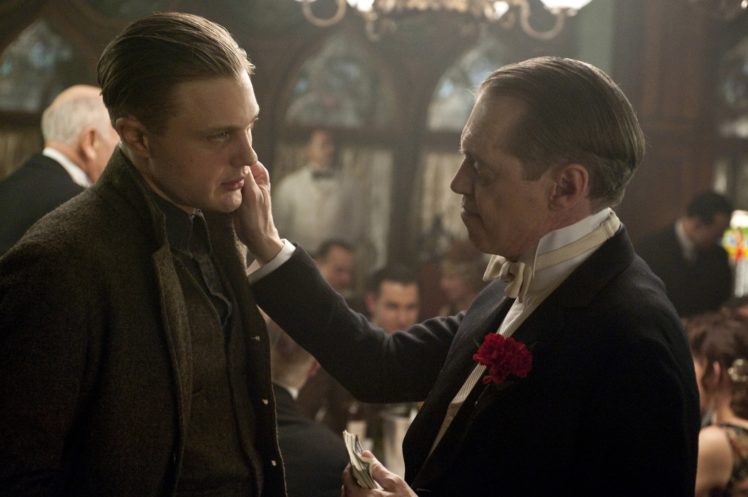 12. Game of Thrones
Millions of fans are sad (might be crying) after the finale of Game of Thrones. The show was compared to several epic TV shows and movies as well because of the insanely-pleasing story, character depth, consolations, brutal killings, colossal battle scenes, and the real drama, of course. Whether you have read the books or not, Game of Thrones has won an enormous fanbase who would wait anxiously for the next episode. Many critics regard Game of Thrones as one of the best novel-based TV shows of all time. If you haven't seen Game of Thrones, we would suggest you cancel your weekend dinner and binge-watch the first season to become part of this fantasy-drama culture.
Seasons: 8
IMDb Ratings: 9.3
Genre: Fantasy
Can You Watch Them All?
You have to tune into HBO to catch-up on these juicy storylines and high-intensity dramatic TV shows. But HBO is only available in the US and for those who have PureVPN. Yes! It means you can access HBO Now, HBO Max, and all the above-mentioned TV shows with the power of PureVPN.
Follow These Simple Steps and Watch HBO
When it comes to accessing top-rated TV shows and fan-favorite content, you can use PureVPN to smash region-specific limitations. Follow these five steps to lie down on your couch and spend the next hour binge-watching True Blood.
Sign-up for PureVPN
Connect to a US server
Sign-in to HBO
Browse amazing TV shows (that you can't miss out watching)
Final Takeouts
If you are unable to watch any one of the above-mentioned TV shows and want to smash your phones, PureVPN can give you a helping hand. When it comes to accessing region-specific content and breaking limitations, PureVPN is regarded as the best streaming VPN available. Sign-up for PureVPN to watch all the shows on HBO as well as Hulu, Netflix, Amazon, and any other streaming website.
More from PureVPN: