The sparks of romance never extinguish no matter the age but remain alive somewhere deep in your heart, waiting for the right moment or that right someone.
Watching romantic flicks is one of the best and easiest ways to tap into your romantic or lovey-dovey side. And surely, the Internet has no shortage of heart-touching and emotionally charged romantic movies that can turn the grumpiest mood upside down.
We've taken the liberty to dig through Hulu's massive archive and listed the 15 most heart-touching romantic movies ever made.
15 Romantic Movies to Watch on Hulu
Killers (2010)
ImageCredit: shoebill.info
Starring: Katherine Heigl and Ashton Kutcher
If you are into some romance plus action and comedy, we suggest you watch Killers. Jen meets Spencer while vacationing at the French Riviera with her parents. Flash forward to 3 years, we see the couple living a joyous life in a sweet suburban town. However, their seemingly happy life goes haywire when Jen finds out that her husband has a secret, which he's been hiding for three years, i.e., he's a highly trained spy. Now, before she comes to term with the fact that she's married to a spy, she must assist her husband to take down the unsuspecting group of assassins sent after him.
Love Actually (2003)
ImageCredit: christmasfm.com
Starring: Hugh Grant, Liam Neeson, Colin Firth, Laura Linney, Emma Thompson, Alan Rickman, Keira Knightley, Martine McCutcheon, Bill Nighy, and Rowan Atkinson.
An emotionally charged flick and one of the best romantic movies of all times, Love Actually tells the stories of different characters whose lives are magically intertwined. The movie touches various aspects of love through the portrayal of eight different couples. The film stars a huge pool of A-list actors whose acting skills have made the movie a legend forever.
A Walk to Remember (2002)
ImageCredit: fanpop.com
Starring: Shane West, Mandy Moore, Peter Coyote, and Daryl Hannah
Based on the best-selling novel of the same name, A Walk to Remember is a coming-of-age romantic drama movie that follows the story of two teenagers, Jamie Sullivan (Mandy Moore) an innocent young girl, and Landon Carter (Shane West), a satiated delinquent. The two first cross paths when Landon ridicules Jamie before his glamorous girlfriend. However, after a prank goes wrong, he is ordered to join a drama club where he meets Jamie again. From there, Jamie and Landon develop a powerful relationship that transcends everything between two.
Say Anything
ImageCredit: northernirelandscreen.co.uk
Starring: John Cusack , Ione Skye , John Mahoney , Lili Taylor , Amy Brooks , Pamela Adlon , and Jason Gould .
In a charming, critically acclaimed tale of first love, Lloyd (John Cusack), an eternal optimist, seeks to capture the heart of Diane (Ione Skye), an unattainable high-school beauty and straight-A student. It surprises just about everyone when she returns the sentiment. But Diane's overly possessive

, divorced father (John Mahoney) doesn't approve and it will take more than the power of love to conquer all.
Moonrise Kingdom (2012)
ImageCredit: grcmc.org
Starring: Bruce Willis, Edward Norton, Bill Murray, Frances McDormand, Tilda Swinton, Jason Schwartzman, and Bob Balaban.
Set in 1965, on an Island somewhere in New England, the movie tells the story of two twelve-year-old lovers who make a secret pact with each other and flee the community. Consequently, the local community mobilizes a search party to spread out and find them before calamity strikes them in the form of a violent storm.
---
---
50 First Dates
ImageCredit: amazon.com
Starring: Adam Sandler , Drew Barrymore , Rob Schneider , Sean Astin , Lusia Strus , and Dan Aykroyd .
Playboy vet Henry sets his heart on romancing Lucy, but she has short-term memory loss; she can't remember anything that happened the day before. So every morning, Henry has to woo her again. Her friends and family are very protective, and Henry must convince them that he's in it for love.
The Ugly Truth
ImageCredit: nypdecider
Starring: Katherine Heigl , Gerard Butler , Bree Turner , Eric Winter , Nick Searcy , and Jesse D. Goins .
Abby Richter is a lovelorn TV producer who, despite a long and arduous search for the perfect mate, is hopelessly single. The battle of the sexes heats up when her employers team her up with Mike Chadway, an opinionated TV celebrity who plans to put Abby through the

 wringer to prove his own theories about what makes men and women tick.
Friends with Benefits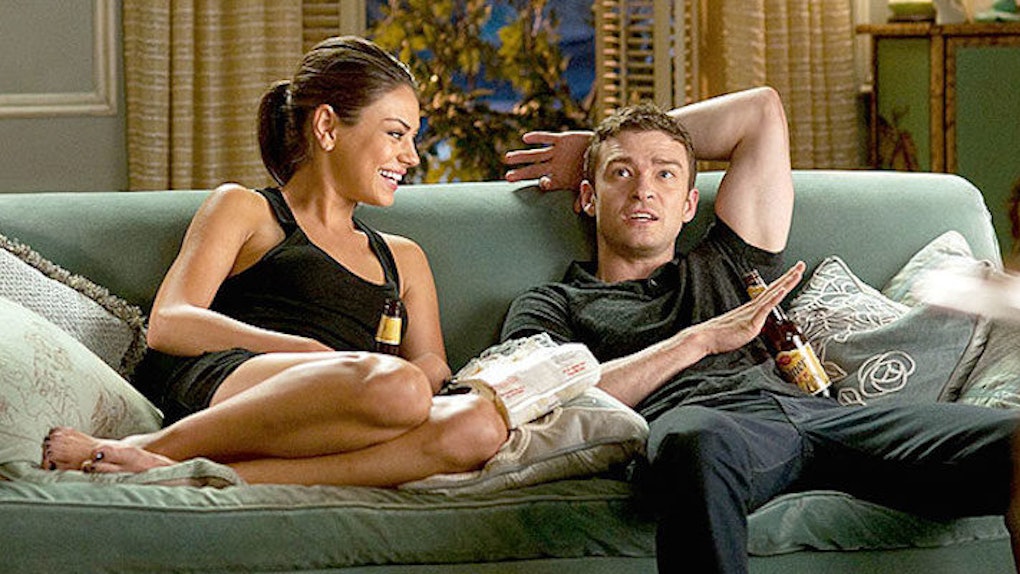 ImageCredit: bustle
Starring: Justin Timberlake , Mila Kunis , Patricia Clarkson , Jenna Elfman , Bryan Greenberg , and Richard Jenkins .
Jamie is a New York-based executive recruiter who entices Dylan, an art director from Los Angeles, to take a job at the New York office of GQ magazine. Finding that they have much in common, the two become fast friends. Feeling jaded by a number of broken romances, D

ylan and Jamie decide that they are ready to quit looking for true love and focus on having fun. However, complications unfold when the two best pals add sex to their relationship.
Amelie (2001)
ImageCredit: pinterest.com
Starring: Audrey Tautou and Mathieu Kassovitz.
Amelie is a French romantic comedy which was nominated for many Academy Awards categories such as Best Foreign Language Film, Best Original Screenplay, etc. The story is about a young woman, Amelie, who went through a very unusual childhood. As a child, she had a heart condition because of which she didn't attend school but lived her life alone in a room. Her mother died in a tragic accident, while her father spends most of his time away from her. Grown to be a healthy and beautiful young woman, Amelie decides to interfere in the life of those around her, hoping to rekindle happiness in other people's life.
Crazy Rich Asians
ImageCredit: insider
Starring: Constance Wu , Henry Golding , Michelle Yeoh , Gemma Chan , Lisa Lu , and Awkwafina .
Rachel Chu is happy to accompany her longtime boyfriend, Nick, to his best friend's wedding in Singapore. She's also surprised to learn that Nick's family is extremely wealthy and he's considered one of the country's most eligible bachelors. Thrust into the spotlight, Rachel must now contend with je

alous socialites, quirky relatives and something far, far worse — Nick's disapproving mother.
Heathers (1988)
ImageCredit: pinterest.com
Starring: Winona Ryder, Christian Slater, and Shannen Doherty
The movie features the heartthrob of the '80s, Winona Ryder, as Veronica who's part of the high school's most popular group. However, she doesn't like the nasty attitude of other girls in the group. Winona soon befriends J.D, played by Christian Slater. The two then oppose the leader of the group and end up poisoning her. Veronica then finds out that J.D is intentionally killing other students in the high school because he dislikes them. Now, Veronica is left with two primary objectives: stop J.D and confront the new leader of the group.
Columbus 
ImageCredit: daredaniel
Starring: John Cho , Haley Lu Richardson , Parker Posey , Michelle Forbes , Rory Culkin , Erin Allegretti , Shani Salyers Stiles , and Reen Vogel
When a renowned architecture scholar falls suddenly ill during a speaking tour, his son Jin finds himself stranded in Columbus, Ind., a small Midwestern city celebrated for its many significant modernist buildings. Jin strikes up a friendship with Casey, a young architecture enthusiast who works at 

the local library. As their intimacy develops, Jin and Casey explore both the town and their own conflicted emotions.
Punch-Drunk Love
ImageCredit: filmschoolrejects
Starring: Adam Sandler , Jason Andrews , Don McManus , Emily Watson , Luis Guzmán
A frustrated Barry Egan calls a phone-sex line to curb his loneliness. Little does he know that he will land in huge trouble and will also jeopardise his relationship with Lena.
A Star Is Born
ImageCredit: ytimg
Starring: Lady Gaga , Bradley Cooper , Sam Elliott , Andrew Dice Clay , Rafi Gavron , and Anthony Ramos .
After falling in love with struggling artist Ally, Jackson, a musician, coaxes her to follow her dreams, while he battles with alcoholism and his personal demons.
The Vow 
ImageCredit: amazon
Starring: Rachel McAdams , Channing Tatum , Jessica Lange , Sam Neill , Jessica McNamee , Wendy Crewson , Tatiana Maslany , and Lucas Bryant
Paige meets with a terrible accident which leaves her in a coma. When she wakes up, she doesn't recognise her husband Leo, who then tries to win her back by courting her again.
How to Lose a Guy in 10 Days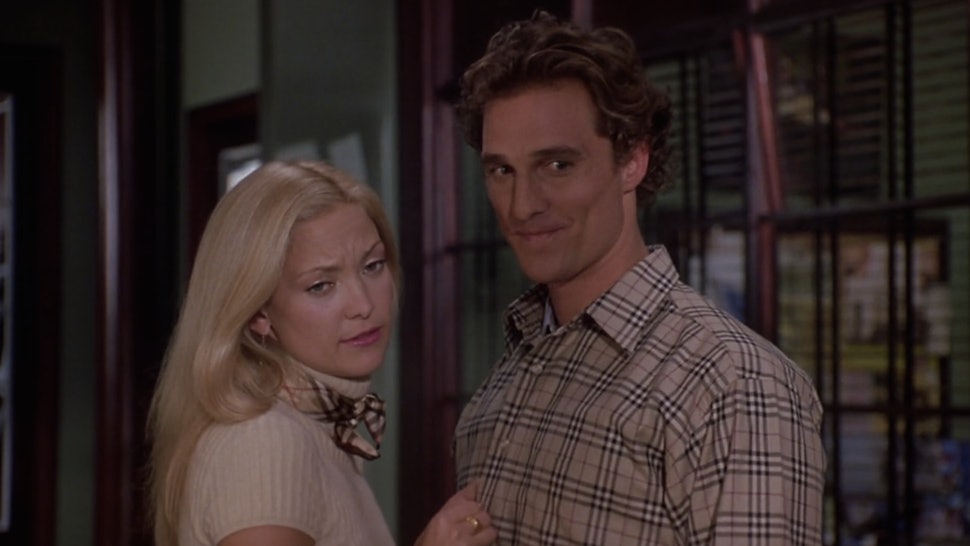 ImageCredit: bustle
Starring: Kate Hudson , Matthew McConaughey , Kathryn Hahn , Annie Parisse , Adam Goldberg , Thomas Lennon , Michael Michele , and Shalom Harlow
Benjamin is challenged by his co-workers to make a woman fall in love with him. On the other hand, Andie has to write an article on how to lose a guy in 10 days.
How to Access Hulu US from Anywhere
Don't lose heart if you can't access and stream the romantic flicks on Hulu from outside the US. Luckily for you, there's a surefire way to watch all your favorite flicks on Hulu from anywhere in the world. What you need to do is subscribe and set up PureVPN.
Sign up for PureVPN account
Download the app on your desired device

Launch the app and choose the Streaming mode

Go to Popular channels

Scroll down and click to connect Hulu US

Enjoy Hulu from outside the US
Best of all, you can set up PureVPN on a wide range of devices, i.e., from PC and consoles to Smart TVs and routers.
Looking for great content on other streaming platforms? Check these out too.
Romantic Movies on Amazon Prime
See Also: The Best Horror Movies on Hulu That Will Steal Your Sleep