How to watch Peacock TV in Australia [December 2023]
Get ready to enjoy the best deal in streaming. Peacock TV offers 7,500-15,000 hours of premium-quality TV series and movies from the NBC and Universal Studios catalog! Binge through hits like The Office no matter wherever you are. If you are looking to watch Peacock TV in Australia, we got you covered with PureVPN, the best way to access your favorite content anywhere.
Last Updated on: December 1, 2023
Why is Peacock TV blocked in Australia?
The complex nature of broadcasting and streaming means that restrictions apply to your favorite online streaming platforms. Given legal agreements, Peacock TV is limited to US-only territories at the moment. But fans want more to enjoy the content from NBC and Universal.
The process remains slow in expanding the service to other countries. But fans need not wait for media conglomerates negotiating licensing agreements as well as regional broadcasting considerations. Even with the various legal and financial issues that exist.
Right now, NBC is negotiating broadcasting rights with bringing its streaming service to potential new markets, a process that involves waiting for regulatory proposals and other bureaucratic hurdles to clear. Since NBC offers live sports programming that is usually locked with exclusivity agreements with other commercial companies, the process to get greenlit becomes more prolonged.
Technology like IP tracking prohibits users from other countries to access Peacock TV. This means that only users from approved locations can enjoy Peacock. Well, almost.
How to watch Peacock in Australia
Did you know that Peacock TV was originally launched on July 15, 2020? To date, it is available to a limited number of viewers, restricted to subscribers in the United States and certain US territories. But no worry, anyone can enjoy Peacock TV content with PureVPN. Here's how you can use it anywhere:
Can a VPN unlock Peacock TV in Australia?
The simple version – yes you can watch Peacock TV from the official Peacock TV app in unsupported countries. With the help of a VPN, you can enjoy Peacock TV in Australia.
Get a versatile VPN solution like PureVPN. It works by employing a sophisticated mix of encryption and internet protocols to mask your location. The result is that streaming platforms recognise you as a legitimate subscriber, unlocking their content without fuss.
All this being said, users need to be wary of so-called free proxy services. These proxies leave your personal information open to cybercriminals. A paid VPN service uses advanced internet protocols to encrypt and anonymize your online activity. Its a no-brainer. Use a proper VPN service and enjoy your favorite content, all without compromising your online safety.
Stream Peacock TV on any device with PureVPN
PureVPN has garnered a reputation for itself as perhaps one of the most customer-centric VPN on the market. One reason for this has been the fact that it is a service available on nearly every device with zero differences in customer experience. Hence, you can rest assured that you'll be easily able to access your Peacock TV account using PureVPN on any iOS, Android, Windows, Roku, Fire TV, PlayStation, Xbox, or Chromecast device without any issues.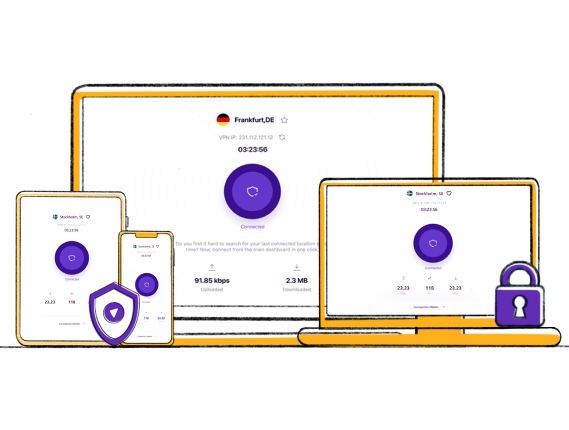 How to Watch Peacock Australia on Smart TV
Just follow these simple steps given below to watch Peacock TV in Australia on Smart TV:
Download the PureVPN app from the App Store and sign up.
Connect to a server in the US.
Get the Peacock TV App on your Smart TV
Log in or create a Peacock TV account your credentials.
Enjoy watching Peacock TV shows on Smart TV!
Watch Peacock in Australia on Roku
Just follow these simple steps to watch Peacock TV in Australia on Roku:
Login to your Roku account.
Go to the Home screen and search for the Peacock channel.
Hit the Add Channel button.
Get PureVPN and set it up on your Roku device via router.
Connect to a US server.
Log in or create a Peacock TV account using any US zip code.
Open Peacock TV from your list of available Roku channels and start streaming!
Watch Peacock in Australia on Firestick
You can watch Peacock in Australia on Firestick by following these steps:
Sign up for PureVPN.
Go to the Amazon App store and download our Firestick app.
Connect to a US server.
Now, download the Peacock TV app.
Log in or create a Peacock TV account using any US zip code.
Open Peacock TV and watch away!
What to watch on Peacock TV?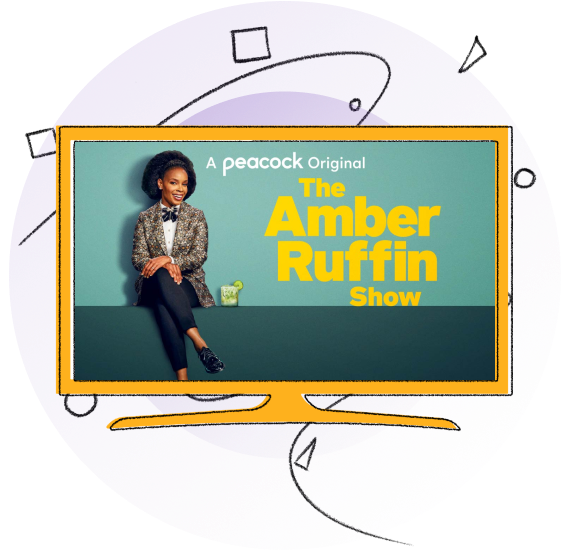 Talk shows
With shows like the The Amber Ruffin Show and The Tonight Show With Jimmy Fallon, you'll have access to some of the best talk show hosts and sets. Furthermore, the Today Show on NBC has been one of the most popular morning shows on American television. It has now started streaming on Peacock TV ever since the 2020 Presidential Elections in a move to appeal to even more viewers.
Peacock originals
As mentioned earlier, since Peacock is a relatively new streaming service, it may not boast a plethora of originals compared to its primary competitors. But with TV Series like irreverent in addition to Leopard skin, the focus is more on quality than quantity.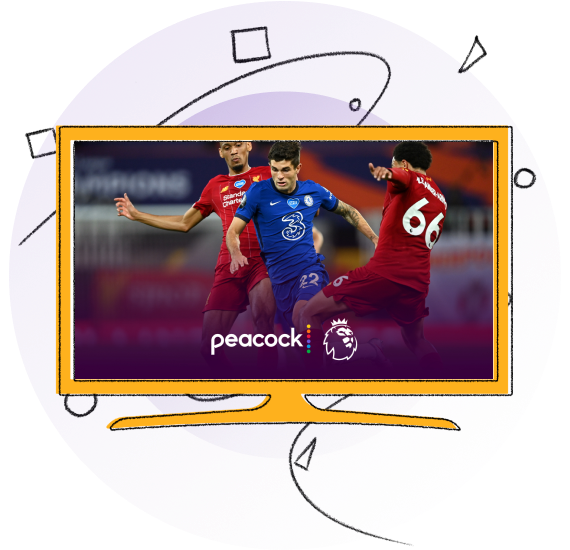 Sports
Using a Peacock VPN from anywhere in the world is easy. You'll always have easy access to sporting events and tournaments such as the Premier League, NFL Playoffs , Rugby, Indy Car and WWE no matter where you are in the world.
List of Peacock TV subscription plans
Free Peacock
Peacock Free is, as the name indicates, free. However, you will not have access to the whole collection of content and will instead be able to view only certain movies and episodes. And, of course, there are advertisements. But, hey, it's free!
Premium Peacock
Peacock Premium costs $4.99 a month and offers you access to the entire content library. This contains all of the Peacock originals as well as lots of amazing movies and TV episodes like The Office. It also allows you to watch NBC shows the day after they air on traditional television. There are still advertisements, but they are not as long or as bland as the free ones!
Peacock Premium Plus
Peacock Premium Plus costs $9.99 a month and includes everything the Premium model does except the ads. Certain movies and episodes can also be downloaded for offline viewing on mobile devices.
PureVPN extensions for your favorite browsers
Chrome Extension
Install our Chrome extension to connect to all popular geo-restricted streaming services across the world at the click of a button
Firefox Extension
Get PureVPN's Firefox extension to get access to more than 6500 servers in 140+ countries, ensuring you're never blocked from viewing your favourite content.
Edge Extension
Using PureVPN's 10 multi-logins on Edge browser, you and your family can continue accessing multiple streaming services at the same time without any restrictions.
Popular & Upcoming Movies and Shows on Peacock
Peacock offers a vast collection of movies and shows. Here are some recommendations for what to watch on Peacock right away:
Popular Movies & Shows on Peacock right now
Upcoming Movies & Shows on Peacock to look forward
Billboard Music Awards 2023
Paris in Love season 2
Christmas at the Opry
Mr. Monk's Last Case: A Monk Movie
Dr. Death Season 2
The Real Housewives Ultimate Girls Trip season 4
Frequently Asked Questions
Here are some commonly asked questions about Peacock TV and VPNs:
Can you watch Peacock TV in Australia for free?
Yes, you can. There's a free plan for Peacock TV that is ad-supported and features 7,500 hours of movies and TV shows. Pair it up with PureVPN to enjoy your favorite content.
Is The Office available on Peacock TV in Australia?
Yes! Watch the misadventures and misfortune of Michael Scott exclusively on Peacock TV. You can watch it for free.
What Channels Will Be On Peacock?
When you connect to a Peacock VPN to access Peacock from around the world, you get access to more than 20,000 hours of premium content from around the world. This includes studios such as NBC, Bravo, USA Network, SYFY, Oxygen, E!, CNBC, MSNBC, NBCSN, Gold Channel, Universal Kids, A&E , ABC, CBS, The CW, FOX, History, Nickelodeon, Showtime , Universal Pictures, Dreamwroks, Focus Features, ViacomCBS, Paramount, Lionsgate, Warner Bros. and Blumhouse.
How much does Peacock TV cost?
Peacock TV offers three different subscriptions – an ad-supported free plan, a Premium plan, and a Premium Plus plan. Get Peacock Premium for $9.00 monthly or the Premium Plus plan for $4.99 if you are already a Comcast subscriber.
Can you access Peacock TV in Australia?
With a fully-featured VPN service like PureVPN, you can easily access Peacock TV in Australia.
Access Peacock From Different Countries