How to watch Peacock TV in Mexico [Updated December 2023]
Peacock TV has become one of the best streaming services in a short time period. However, it's only accessible in the United States due to content licensing agreements. Using PureVPN, you can get a US IP address and watch Peacock TV in Mexico or anywhere else in the world.
Subscribe to PureVPN.
Download and install PureVPN on your device.
Connect to a US server.
Head over to the Peacock website, log in, and enjoy streaming all your favorite content from anywhere.
Last Updated on: December 1, 2023
Why is Peacock TV blocked in Mexico?
You might still be wondering why Peacock TV isn't available in Mexico. Well, the main reason why you're unable to access Peacock TV and other streaming services across the world is due to content licensing rights.
In Mexico, Peacock TV's parent company NBC already has content distribution licensing agreements with Studio Universal. To ensure that only eligible viewers can access their streaming service, Peacock TV uses something known as geo-blocks.
What it does is check your Internet Protocol address or IP address to determine whether or not you're from the US. If not, you're blocked from accessing their streaming service – this is where a VPN service can help. Learn more below.
"With its new 20Gbps server speed upgrades, PureVPN is now 100 percent ready to operate in a 5G world where faster internet speeds have become the norm."
"PureVPN is leading the way when it comes to transparency regarding its operations. It's the only VPN with always-on audit, meaning one of the big four security audit firms KPMG can audit PureVPN anytime without any prior notice."
"PureVPN has a large collection of VPN servers across the world, offering some of the best geographic diversity we've seen."
"PureVPN delivers a smartly designed package that mostly succeeds in delivering security and privacy."
"PureVPN lets you protect yourself against hackers and snoops, surf in total anonymity, access restricted content, and communicate securely."
How to access Peacock TV in Mexico
Peacock TV has plenty to offer for all types of viewers but it's only available in the US. With a PureVPN, you can gain access to the streaming service in Mexico.
Subscribe
to PureVPN
Download
and install the app on your streaming device.
Connect
to a US server and stream Peacock TV
Why you need a VPN to access Peacock TV in Mexico?
Fortunately, you can watch Peacock TV in Mexico despite it being geo-restricted outside the US. You'll need to use a VPN, which among other things, let's you access the content you want no matter where you are in the world.
That's because a VPN replaces your true IP address with one from the country you connect to. So, if you're in Mexico and want to stream The Office on Peacock TV, all you have to do is connect to a US server, log into your Peacock TV account, and voila!
However, you must get your hands on a premium VPN rather than a free one. Free VPNs not only collect and sell your data to third parties for a profit but also come with issues like frequent disconnections, limited bandwidth, and little to no encryption. For this reason, it's better to stick to a premium VPN and avoid free services altogether.
Stream Peacock TV on any device with PureVPN
PureVPN has garnered a reputation for itself as perhaps one of the most customer-centric VPN on the market. One reason for this has been the fact that it is a service available on nearly every device with zero differences in customer experience. Hence, you can rest assured that you'll be easily able to access your Peacock TV account using PureVPN on any iOS, Android, Windows, Roku, Fire TV, PlayStation, Xbox, or Chromecast device without any issues.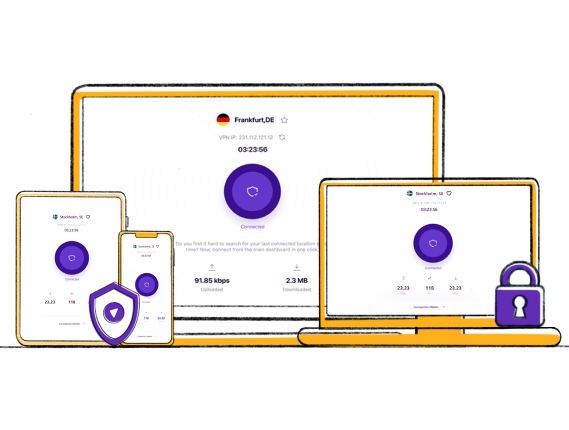 How to Watch Peacock TV on Samsung TV
If you want to watch Peacock tv on Samsung TV , simply follow the step below and setup VPN on Samsung Smart TV:
Download the PureVPN app from the App Store and sign up.
Connect to a server in the US.
Download the Peacock TV and log in or sign up. .
Log in or create a Peacock TV account using any US zip code.
Enjoy watching Peacock TV on Samsung Smart TV!
How to Watch Peacock TV on Roku in Mexico
Just follow these simple steps to watch Peacock TV on Roku in Mexico:
Login to your Roku account.
Go to the Home screen and search for the Peacock channel.
Hit the Add Channel button.
Get PureVPN and set it up on your Roku device via router.
Connect to a US server.
Log in or create a Peacock TV account using any US zip code.
Open Peacock TV from your list of available Roku channels and start streaming!
How to Watch Peacock TV on Firestick in Mexico
You can watch Peacock TV on Firestick in Mexico by following these steps:
Sign up for PureVPN.
Go to the Amazon App store and download our Firestick app.
Connect to a US server.
Now, download the Peacock TV app.
Log in or create a Peacock TV account using any US zip code.
Open Peacock TV and watch away!
What to watch on Peacock TV in Mexico?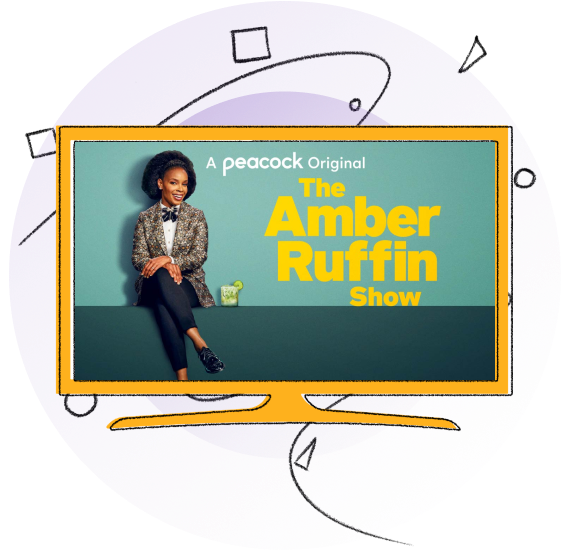 Talk shows
With shows like the The Amber Ruffin Show and The Tonight Show With Jimmy Fallon, you'll have access to some of the best talk show hosts and sets. Furthermore, the Today Show on NBC has been one of the most popular morning shows on American television. It has now started streaming on Peacock TV ever since the 2020 Presidential Elections in a move to appeal to even more viewers.
Peacock originals
As mentioned earlier, since Peacock is a relatively new streaming service, it may not boast a plethora of originals compared to its primary competitors. But with TV Series like irreverent in addition to Leopard skin, the focus is more on quality than quantity.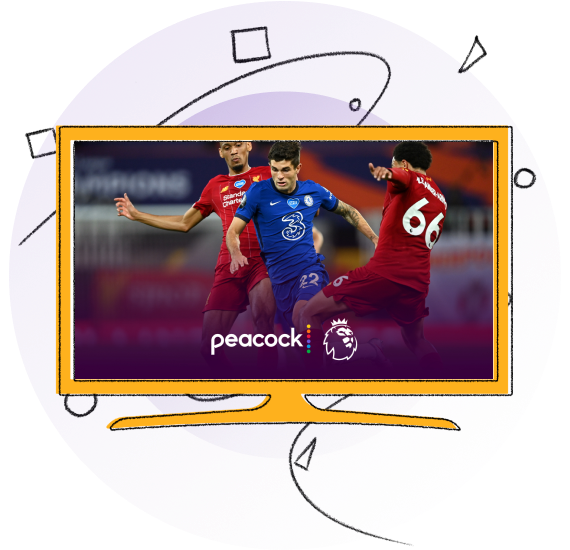 Sports
Using a Peacock VPN from anywhere in the world is easy. You'll always have easy access to sporting events and tournaments such as the Premier League, NFL Playoffs , Rugby, Indy Car and WWE no matter where you are in the world.
List of Peacock TV subscription plans
Free Peacock
Peacock Free is, as the name indicates, free. However, you will not have access to the whole collection of content and will instead be able to view only certain movies and episodes. And, of course, there are advertisements. But, hey, it's free!
Premium Peacock
Peacock Premium costs $4.99 a month and offers you access to the entire content library. This contains all of the Peacock originals as well as lots of amazing movies and TV episodes like The Office. It also allows you to watch NBC shows the day after they air on traditional television. There are still advertisements, but they are not as long or as bland as the free ones!
Peacock Premium Plus
Peacock Premium Plus costs $9.99 a month and includes everything the Premium model does except the ads. Certain movies and episodes can also be downloaded for offline viewing on mobile devices.
PureVPN extensions for your favorite browsers
Chrome Extension
Install our Chrome extension to connect to all popular geo-restricted streaming services across the world at the click of a button
Firefox Extension
Get PureVPN's Firefox extension to get access to more than 6500 servers in 140+ countries, ensuring you're never blocked from viewing your favourite content.
Edge Extension
Using PureVPN's 10 multi-logins on Edge browser, you and your family can continue accessing multiple streaming services at the same time without any restrictions.
Popular & Upcoming Movies and Shows on Peacock
Peacock offers a vast collection of movies and shows. Here are some recommendations for what to watch on Peacock right away:
Popular Movies & Shows on Peacock right now
Upcoming Movies & Shows on Peacock to look forward
Billboard Music Awards 2023
Paris in Love season 2
Christmas at the Opry
Mr. Monk's Last Case: A Monk Movie
Dr. Death Season 2
The Real Housewives Ultimate Girls Trip season 4
Frequently Asked Questions
Here are some commonly asked questions about Peacock TV and VPNs:
Does Peacock TV work in Mexico?
No, it doesn't. Peacock TV is only available in the US, which means only residents in America can access the streaming service. However, you can use a VPN to switch your virtual location to the US and access Peacock TV in Mexico.
Is Peacock in Mexico free?
As mentioned, there are three tiers of Peacock TV subscriptions. One of them is the free tier that allows you to access thousands of hours of content without paying a penny.
Which country is Peacock TV available in?
The streaming service is currently available in the US and certain US territories like Guam, Puerto Rico, American Samoa, Northern Mariana Islands, and the American Virgin Islands.
Can I get Peacock TV in Mexico?
Yes, you can. All you need to do is use a VPN and get an IP address from the US before accessing Peacock TV on your streaming device.