Best Peacock VPN to Watch it Outside the US in 2023 [Updated September]
With some of the best movies and shows like Parks & Recreation, Despicable Me, The Office, 21 Jump Street, Bel-Air, Vampire Academy, and Girls5eva on its library, Peacock TV is high in demand. Unfortunately, it is not available to those outside the US. Here's how you can access the streaming service from any country in the world via the best Peacock VPN:
Subscribe to PureVPN.
Download and install PureVPN on your device.
Connect to a US server.
Head over to the Peacock website, log in, and enjoy streaming all your favorite content from anywhere.
Last Updated on: September 22, 2023
How to Stream Movies & Shows via Peacock VPN
Even though Peacock TV is a new streaming service, it is geo-restricted for viewers only in the United States. Here's how a Peacock VPN can let you watch it from anywhere in the world:
Subscribe
to PureVPN.
Download
and install the app on your streaming device.
Connect
to US and stream Peacock TV.
Join the family of 3M+ satisfied users
Why Get a Peacock VPN?
The streaming wars got even more competitive when NBC decided to launch its own streaming service called Peacock TV. With shows and movies like The Lost Symbol, Parks and Recreation, The Office, A Friend of the Family and One of Us is Lying among others.The best part? It is available for free. At least if you choose that plan. There are two other plans such as the Peacock Premium and Peacock Premium Plus, which cost $4.99 and $9.99 respectively.Unfortunately, since the service is only available in the United States currently, you'll need an effective Peacock VPN to give you access to all this amazing content on the site from anywhere in the world.
Where Is Peacock TV Available?
As of right now, Peacock TV is only available in the United States. Owing to several factors such as broadcast rights, copyrights, and broadcast permits, Peacock TV will likely have to wait till it becomes available globally such as Netflix or Amazon Prime. If you try and access it outside the United States, you'll get an error stating, "Peacock TV is not available in your region". If you want to evade this restriction, the best tool to use would be an effective Peacock VPN such as PureVPN that can connect you to a US server and let you watch all your favorite content without any issues.
How to Watch Peacock TV Outside the US via Peacock VPN
If you're wondering just how hard it is to use a Peacock VPN to get access to Peacock TV from around the world, then you'll be glad to know that it takes less than a few minutes. Just follow these few simple steps and you'll be good to go:
Subscribe to PureVPN
Download and install PureVPN on your preferred device
Connect to a US server
Head over to Peacock TV's official page, log in or sing up, and start watching your favorite content on Peacock TV from anywhere in the world
Stream Peacock TV on any device with PureVPN
PureVPN is compatible with most devices at home, ranging from iOS, Windows, Android, Roku, Amazon Fire TV, gaming consoles, or Google Chromecast. The best part is that you can get PureVPN on any device and enjoy a buffer-free experience.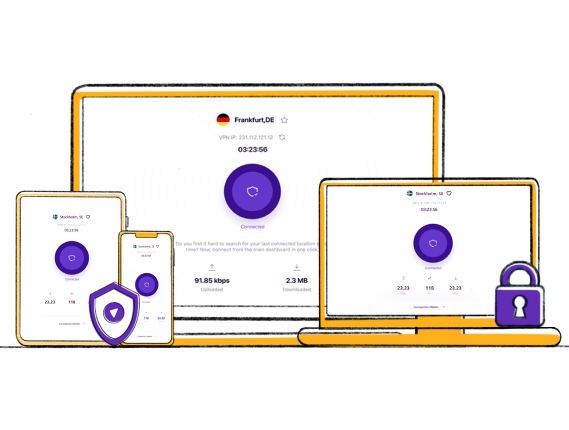 How to Watch Peacock TV on Samsung TV using Peacock VPN
If you want to watch Peacock tv on Samsung TV , simply follow the step below and setup VPN on Samsung Smart TV:
Download the PureVPN app from the App Store and sign up.
Connect to a server in the US.
Download the Peacock TV and log in or sign up. .
Log in or create a Peacock TV account using any US zip code.
Enjoy watching Peacock TV on Samsung Smart TV!
How to Watch Peacock TV on Roku using Peacock VPN
If you want to watch Peacock TV on Roku, just follow the steps mentioned below:
Sign into your Roku account.
Subscribe to PureVPN and set it up on your router.
Choose the US from the list of available server.
After connecting your Roku to your Wi-Fi network, visit the Home screen and search for Peacock TV.
Connect to a US server.
Choose Add Channel.
From your list of available channels, select Peacock and watch away!
How to Watch Peacock TV on Firestick using Peacock VPN
Want to watch Peacock TV on your Firestick device? Here's how to go about it:
Sign up for PureVPN.
Download PureVPN's Firestick app from the Amazon Appstore.
Connect to a server in the US.
Next, download the Peacock TV app.
Log into your Peacock TV account.
Enjoy watching Peacock TV content on Firestick!
What to watch on Peacock TV?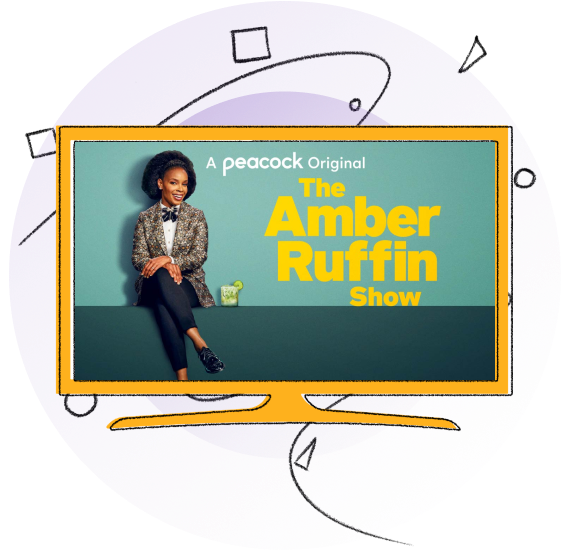 Talk shows
With shows like the The Amber Ruffin Show and The Tonight Show With Jimmy Fallon, you'll have access to some of the best talk show hosts and sets. Furthermore, the Today Show on NBC has been one of the most popular morning shows on American television. It has now started streaming on Peacock TV ever since the 2020 Presidential Elections in a move to appeal to even more viewers.
Peacock originals
As mentioned earlier, since Peacock is a relatively new streaming service, it may not boast a plethora of originals compared to its primary competitors. But with shows like The Resort and Meet Cute in addition to Beast, the focus is more on quality than quantity.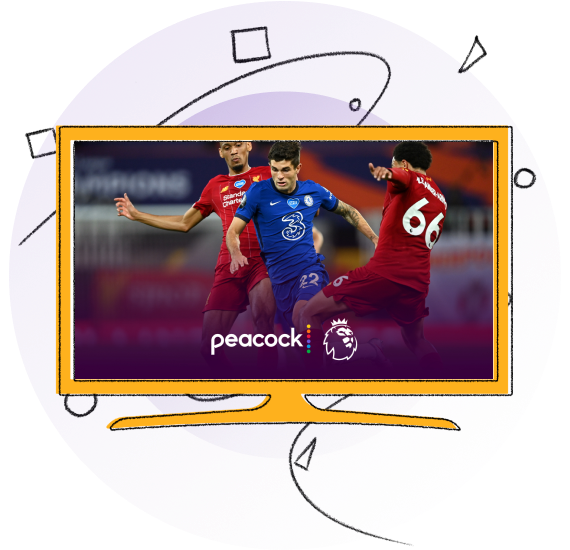 Sports
Using a Peacock VPN, you can stream sports on Peacock TV live online from anywhere in the world. You'll always have easy access to sporting events and tournaments such as the Premier League, NFL Playoffs , Rugby, Indy Car and WWE no matter where you are in the world.
List of Peacock TV subscription plans
Free Peacock
Peacock Free is, as the name indicates, free. However, you will not have access to the whole collection of content and will instead be able to view only certain movies and episodes. And, of course, there are advertisements. But, hey, it's free!
Premium Peacock
Peacock Premium costs $4.99 a month and offers you access to the entire content library. This contains all of the Peacock originals as well as lots of amazing movies and TV episodes like The Office. It also allows you to watch NBC shows the day after they air on traditional television. There are still advertisements, but they are not as long or as bland as the free ones!
Peacock Premium Plus
Peacock Premium Plus costs $9.99 a month and includes everything the Premium model does except the ads. Certain movies and episodes can also be downloaded for offline viewing on mobile devices.
PureVPN extensions for your favorite browsers
Chrome Extension
Install our Chrome extension to connect to all popular geo-restricted streaming services across the world at the click of a button
Firefox Extension
Get PureVPN's Firefox extension to get access to more than 6500 servers in 140+ countries, ensuring you're never blocked from viewing your favourite content.
Edge Extension
Using PureVPN's 10 multi-logins on Edge browser, you and your family can continue accessing multiple streaming services at the same time without any restrictions.
Frequently Asked Questions About Peacock VPN
Why is my Peacock TV account not working with my VPN?
This is likely because the VPN server you've connected to has been blacklisted. The solution is fairly simple. Just disconnect and connect to any other server in that country. Considering how PureVPN has thousands of different IP addresses, this shouldn't be any major issue but will resolve this problem quite easily.
How do I play for Peacock TV account outside the US?
You can use your regular Debit or Credit card since Peacock TV does not require you to use a US-based payment system.
What Channels Will Be On Peacock?
When you connect to a Peacock VPN to access Peacock from around the world, you get access to more than 20,000 hours of premium content from around the world. This includes studios such as NBC, Bravo, USA Network, SYFY, Oxygen, E!, CNBC, MSNBC, NBCSN, Gold Channel, Universal Kids, A&E, ABC, CBS, The CW, FOX, History, Nickelodeon, Showtime, Universal Pictures, Dreamwroks, Focus Features, ViacomCBS, Paramount, Lionsgate, Warner Bros. and Blumhouse.
How much does Peacock TV cost?
There are three tiers of Peacock TV subscription. The first one is absolutely free and gives you access to thousands of hours of content for absolutely free. Peacock Premium would costs you $4.99 per month while Peacock Premium Plus would cost you $9.99 per month. The free version comes with ads. Peacock Premium has ads too but also all seasons of The Office in addition to live matches, originals, and NBC programs. The Peacock Premium Plus option is ad free while you also have the option to download any content and watch them offline whenever you want.
Will There Be Live Sports On Peacock?
Yes! Live sports programming is what sets Peacock apart from most of its rivals.
Can a free VPN access Peacock?
Nope. Most free VPNs are not capable of bypassing the anti-VPN technology used by Peacock TV and other streaming services to restrict viewers from unsupported countries. Furthermore, these services often come with bandwidth caps and overburdened servers, so you can't rely on them for high-speed streaming.