Confused about why college football is often categorized into many divisions? Whether you want to play college football or have an interest in enjoying the great sports, here are a few things about NCAA divisions you should know.
This blog post explains everything you need to know about the NCAA college football divisions and its different conferences:
What is the NCAA? 
The National Collegiate Athletic Association (NCAA) is the primary regulating organization for collegiate athletics. The association is made up of over 1200 schools and universities. It is a "non-profit" organization with an annual income of around one billion dollars.
In general, NCAA divisions divide institutions based on the competition level and their sports departments' resources. The majority of college athletic events on television, from March Madness to the College World Series, are between Division I institutions.
Division I provides the greatest level of competition, and Division I sports departments have the most money. Division III is the NCAA's lowest level of competition, and Division III colleges have the smallest athletic department budgets.
See Also – How to watch College Football Live Online
What are the NCAA's responsibilities? 
The NCAA's primary responsibilities include championship oversight and enforcing and establishing rules for institutions. Many NCAA rules concern athlete financial aid, recruitment, and assessing athletic eligibility. Furthermore, the NCAA is in charge of revising the regulations of certain sports it supervises.
The NCAA has three divisions: Division I, II, and III. Division I football is further subdivided into: 
Football Bowl Subdivision (FBS) 

Football Championship Subdivision (FCS) 

Institutions (FCS).
The divisions promote parity and a fairer playing field in college sports. Furthermore, establishing divisions allows smaller schools with fewer resources to compete for championships.
Competing in NCAA athletics carries a certain amount of status and notoriety, especially at the top levels in the main sports. Butler, a school in Indianapolis, gained $639 million in exposure after making it to the final of the NCAA men's Division playoffs in 2010.
Colleges seek publicity and prestige that participation in the NCAA can provide. In general, the higher the level, the more notoriety a school may get through its athletics department. Even at the lowest levels, NCAA sports programs generate publicity and draw students (and their tuition) from worldwide.
What are the NCAA Divisions? Division 1 vs. Division 2 vs. Division 3
Division 1 
Division 1 football has the highest budget and the most scholarships. Division 1 schools make up all the major football conferences, including the ACC, SEC, Pac 12, and Big 10. This football division by NCAA is divided into two different categories:
The Football Bowl Subdivision (FBS)
This is the highest level of collegiate football competition. It comprises 129 programs from large public colleges and covers all major teams and conferences. 
Football Championship Subdivision (FCS)
This is the second highest level amongst all divisions. The division comprises 124 public institutions, the majority of which are medium-sized. Games are shown on cable networks, although they are available via high-quality internet broadcast. The teams compete in 11 regular season games before advancing to a 24-team playoff bracket. 
Division 2
Division 2 football comprises smaller football teams (mainly from regional public high schools) that award scholarships. The division has 169 football teams that compete in 11 regular season games and a playoff bracket of 28 teams. Most teams have stadium capacities ranging from 5,000 to 15,000 seats, and their games are broadcasted online.
Division 3
Division 3 football includes the lowest NCAA football teams and does not offer scholarships. D3 events include small private institutions, with a few small public schools also participating. The division is home to 249 football teams that compete in 10 regular season games and a 32-team playoff bracket. Most clubs have stadium capacities ranging from 2,000 to 5,000 seats, and the games are streamed live online.
The differences between NCAA Divisions 
The traditional revenue-generating sports of football and men's basketball have the greatest discrepancies between divisions. While the average attendance at an FBS home football game is over 41,000, the average attendance for a Division III home football game is less than 2,000. Many FBS head coaches earn millions of dollars. Meanwhile, many Division III head football coaches work as adjunct professors at their respective universities to boost their pay.
The American Athletic Conference (AAC)
The AAC is an American college athletic conference which features a total of 12 universities that compete in the FBS. These universities located primarily in the Northeastern, Midwestern, and southern regions of the United States, including Temple University. So for all those wondering what division is Temple University, East Carolina University and The USF are in. All three of them are in the AAC of the FBS division.
The complete list of the AAC's teams are as follows:
Cincinnati Bearcats
East Carolina Pirates
South Florida Bulls
Temple Owls
UCF Knights
UConn Huskies
Houston Cougars
Memphis Tigers
Navy Midshipmen
SMU Mustangs
Tulane Green Wave
Tulsa Golden Hurricane
Atlantic Coast Conference (ACC)
The ACC is a conference which competes in the FBS and features a total of 14 different universities that are located the north to south east range of the United States. The Georgia Tech Yellow Jackets can be found in this division, along with the Boston College Eagles. So, if you are wondering what division the Boston College Eagles plays in, your answer is the ACC.
The complete list of the ACC's teams are as follows:
Boston College Eagles
Clemson Tigers
Florida State Seminoles
Louisville Cardinals
NC State Wolfpack
Syracuse Orange
Wake Forest Demon Deacons
Duke Blue Devils
Georgia Tech Yellow Jackets
Miami Hurricanes
North Carolina Tar Heels
Pittsburgh Panthers
Virginia Cavaliers
Virginia Tech Hokies
The Big 12 Conference
The Big 12 is another one of the FBS conferences in the NCAA Football Division I. It includes 10 of the very best football colleges the country has to offer which are located in the South Atlantic, West North Central and West South Central regions. The TCU Horned Frogs and the Texas Tech Red Raiders are among the teams in this division.
The complete list of the Big 12's teams are as follows:
Baylor Bears
Iowa State Cyclones
Kansas Jayhawks
Kansas State Wildcats
Oklahoma Sooners
Oklahoma State Cowboys
TCU Horned Frogs
Texas Longhorns
Texas Tech Red Raiders
West Virginia Mountaineers
The Big Ten Conference (B1G)
Ranging from the Midwest to the North East, The Big Ten is one of the most known conferences of the FBS. It features a total of 14 different college teams, including the Rutgers Scarlet Knights and the Ohio State University, which are two of the best teams of this football division. Furthermore, for those wondering what division is Penn State is? It's in the B1G.
The complete list of the B1G's teams are as follows:
Indiana Hoosiers
Maryland Terrapins
Michigan State Spartans
Michigan Wolverines
Ohio State Buckeyes
Penn State Nittany Lions
Rutgers Scarlet Knights
Illinois Fighting Illini
Iowa Hawkeyes
Minnesota Golden Gophers
Nebraska Cornhuskers
Northwestern Wildcats
Purdue Boilermakers
Wisconsin Badgers
Here are recent Power Ranking of Big 10 Conference.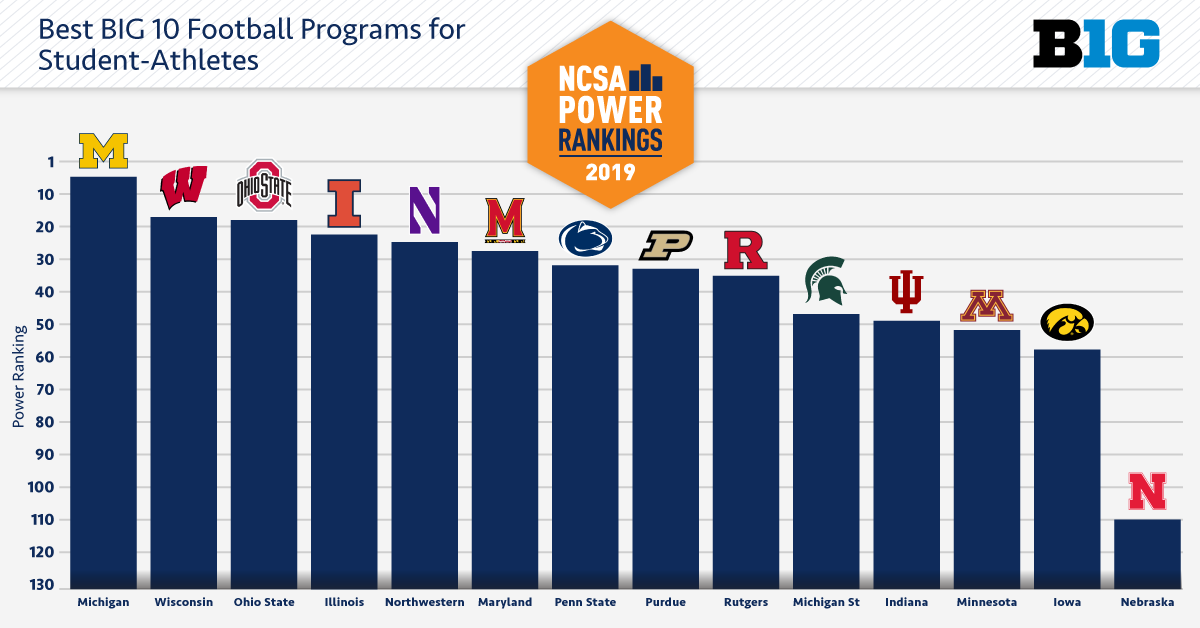 Conference USA (CUSA)
The Conference USA or CUSA in short, is an intercollege athletic conference which includes a 14 teams from the Southern United States regions. The conference was founded back in 1995, however, its football division kicked off in 1996. The Marshall University and the UTSA are among the best in the football division.
The complete list of the CUSA's teams are as follows:
Charlotte 49ers
Florida Atlantic Owls
Florida International Panthers
Marshall Thundering Herd
Middle Tennessee Blue Raiders
Old Dominion Monarchs
Western Kentucky Hilltoppers
Louisiana Tech Bulldogs
North Texas Mean Green
Rice Owls
Southern Mississippi Golden Eagles
UAB Blazers
UTEP Miners
FBS Independents
FBS Independents are schools whose football programs are not part of an NCAA-affiliated conferences. Last year, there were a few more schools, but in 2019, the numbers have come down to a total of six schools, including Notre Dame which is part of this football division.
The complete list of the FBS Independents' teams are as follows:
Army Black Knights
BYU Cougars
Liberty Flames
New Mexico State Aggies
Notre Dame Fighting Irish
UMass Minutemen
Mid-American Conference (MAC)
The Mid-American Conference, or MAC is an NCAA Division I college athletic football conference. It features a total of 12 members from the Great Lakes region which stretches from Western New York to Illinois. The Kent State Golden Flashes and the Western Michigan Broncos are some of the teams present in this division.
The complete list of the MAC's teams are as follows:
Akron Zips
Bowling Green Falcons
Buffalo Bulls
Kent State Golden Flashes
Miami (OH) RedHawks
Ohio Bobcats
Ball State Cardinals
Central Michigan Chippewas
Eastern Michigan Eagles
Northern Illinois Huskies
Toledo Rockets
Western Michigan Broncos
Mountain West Conference (MW)
The Mountain West Conference (MW) is a NCAA Football Division I conference which was established back in 1999. It features a total of 12 college football teams from the Western United States region. This divisions includes the Fresno State Bulldogs and the UNLV Rebels, among others.
The complete list of the MW's teams are as follows:
Air Force Falcons
Boise State Broncos
Colorado State Rams
New Mexico Lobos
Utah State Aggies
Wyoming Cowboys
Fresno State Bulldogs
Hawai'i Rainbow Warriors
Nevada Wolf Pack
San Diego State Aztecs
San Jose State Spartans
UNLV Rebels
Pac-12 Conference
Previously known as the Pacific Coast Conference, the Pac-12 is a NCAA Division I Football conference which operates in the Western United States Region. Currently, it features a total of 12 teams, including the California Golden Bears and the UCLA Bruins.
The complete list of the Pac-12's teams are as follows:
California Golden Bears
Oregon Ducks
Oregon State Beavers
Stanford Cardinal
Washington Huskies
Washington State Cougars
Arizona State Sun Devils
Arizona Wildcats
Colorado Buffaloes
UCLA Bruins
USC Trojans
Utah Utes
Southeastern Conference (SEC)
The SEC is a one of the collegiate athletic conferences which is affiliated with NCAA Division I FBS. Being founded in 1932, it is one of the oldest operating conferences in the United States. As a result of this, it features a total of 14 teams from some of the very best public universities of eleven states. The SEC division includes the Georgia Bulldogs and the South Carolina Gamecocks.
The complete list of the SEC's teams are as follows:
Florida Gators
Georgia Bulldogs
Kentucky Wildcats
Missouri Tigers
South Carolina Gamecocks
Tennessee Volunteers
Vanderbilt Commodores
Alabama Crimson Tide
Arkansas Razorbacks
Auburn Tigers
LSU Tigers
Mississippi State Bulldogs
Ole Miss Rebels
Texas A&M Aggies
Sun Belt Conference
Since its formation back in 1976, the Sun Belt conference is one of the eleven on-going NCAA Division I FBS Conferences operating in the United States. Like the name, this conference features a total of 10 college teams from the Sun Belt region which includes states found in the bottom half of the country. The Troy Trojans are one of the more popular teams from this football division.
The complete list of the Sun Belt's teams are as follows:
Appalachian State Mountaineers
Coastal Carolina Chanticleers
Georgia Southern Eagles
Georgia State Panthers
Troy Trojans
Arkansas State Red Wolves
Louisiana Ragin' Cajuns
South Alabama Jaguars
Texas State Bobcats
UL Monroe Warhawks
Other intercollegiate sports associations
The NAIA and NJCAA also administer intercollegiate sports. NAIA has 300 member schools, and their colleges have sports expenditures like Division III schools.
NAIA colleges give scholarships, unlike NCAA Division III. Morningside, Mayville, and Florida Memorial are NAIA colleges. The NAIA lacks the prestige of the NCAA, yet it helps lesser colleges compete. NJCAA governs two-year college athletics, and its members are granted athletic scholarships.
Scholarships limits by division and sport
If you want to know about the athletic scholarships for each sport and category, visiting this chart can guide you. Check most of the athletic scholarships offered for the different divisions of college athletes.
In some sports, men and women don't have equal access to scholarships in the same category. But, since there are so many football scholarships, many offer a higher number of scholarships for women.
Even though certain sports have more NJCAA scholarships than NCAA scholarships, NCAA scholarships are worth more since two-year universities are cheaper.
Some sports are labelled "head count" on the chart. Headcount sports only provide full scholarships. FBS football, Division I basketball, women's gymnastics, and volleyball are headcount sports. Most sports give partial scholarships and don't count heads.